Description
Advantage
Application
Accessories
Precast Concrete Double Headed Lifting Anchor (SDA)
SMPRE™ Double head lifting anchors are designed with a collar below the anchor head, so that when pushed into the former, the collar makes a seal.Assembly is quicker and when demoulding the former stays on the mould.The anchors are mainly used in light,thin-walled tubes or shafts. It is particularly suitable for formworks with an automatic anchor feeding.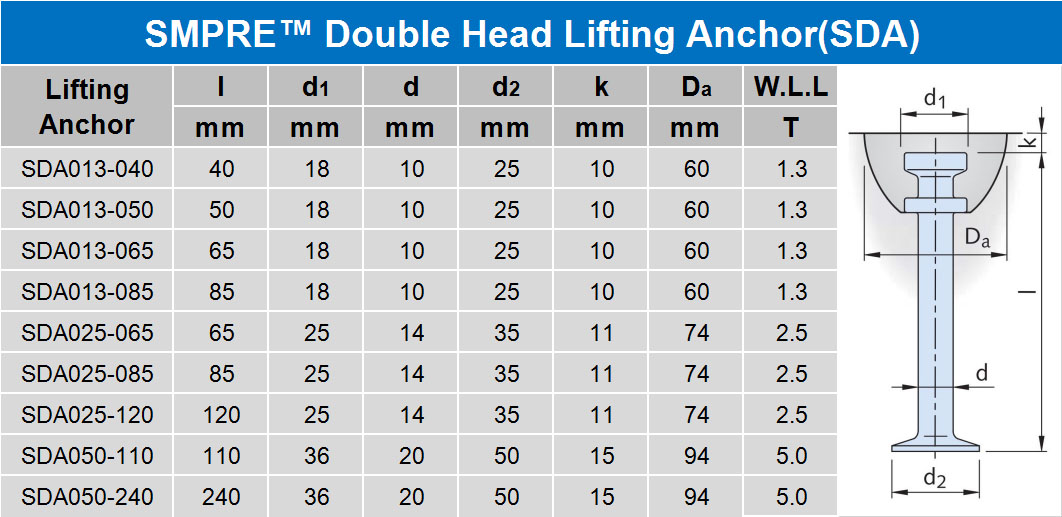 ※ Material:CM490,20Mn2(1.0473),Q345D(1.0577),Stainless steel 304&316;

※ Surface:Plain,Electrical Galvanized(E.Z.),Hot Dip Galvanized(H.D.G.);
※ Delivery Time:Usually 15-30 days for one container;
※ Packaging:20kgs per Woven bag,and 1 Ton per Plywood Box or according to your requirement;

※ Standard: EU Machinery Directive 2006/42/EC and VDI/BV-BS 6205.

☞
No parts projecting above the element's surface,
☞ Easy installation due to the rotation symmetrie, optimised for automated anchor feeding,
☞ Quick coupling of the lifting device into the anchor,
☞
Robust, long-lasting lifting device.
◆ Tank,
◆ Tube,
◆ Shaft and manhole,
◆ Staircases,
◆ Balconies;
Inquiry Now
Can't find the specific information you're looking for? Have a question ? Contact Us