Description
Advantage
Application
Accessories
Precast Concrete Straight Tail Threaded Anchor
The SMPRE™ Straight threaded transport anchors are designed for the transport of precast concrete elements, e.g. walls or bar-shaped elements. No matter if there are extreme thin or very heavy elements - different anchor sizes are available depending on the element type. All load directions, means axial, diagonal and lateral tension, are possible with Threaded transport anchors-straight version.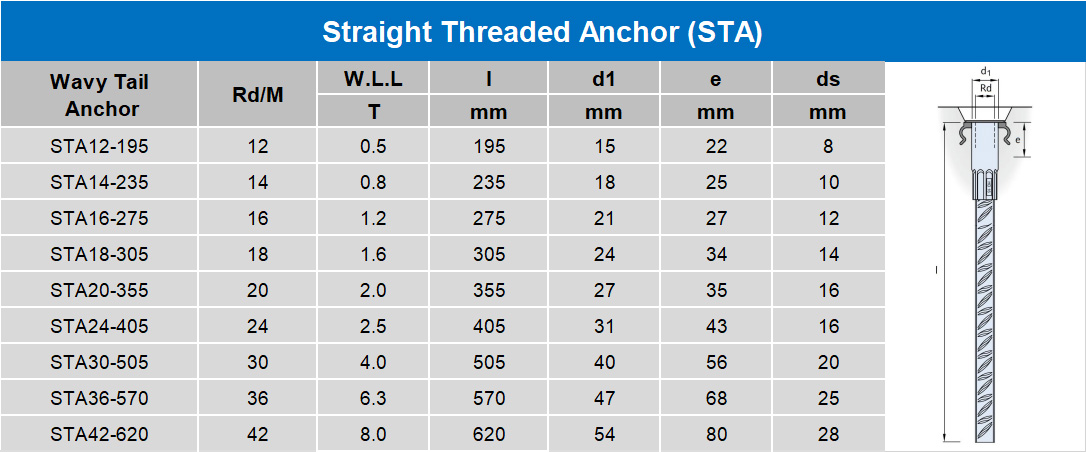 ※ Material:Carbon Steel,Stainless steel,Spring steel, Alloy steel;
※ Surface:Plain,Electrical Galvanized(E.Z.),Hot Dip Galvanized(H.D.G.);
※ Delivery Time:Usually 15-30 days for one container;
※ Packaging: 20kgs per Woven bag,and 1 Ton per Plywood Box or according to your requirement;

※ Standard: EU Machinery Directive 2006/42/EC and VDI/BV-BS 6205.
☞ No parts projecting above the element's surface,
☞ Small recesses on the concrete surface,
☞ Resistant to light soiling due to special round thread,
☞ Flexible and versatile in use.
◆ Wall
◆ Bar-shaped element (e.g. purlin, waler, beam)
◆ Garage
◆ Shaft, manhole

Inquiry Now
Can't find the specific information you're looking for? Have a question ? Contact Us